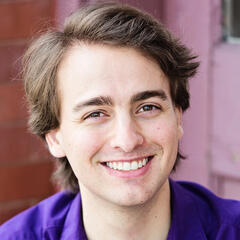 Alex Small
Alex is a Los Angeles based actor/performer/podcaster.
Bio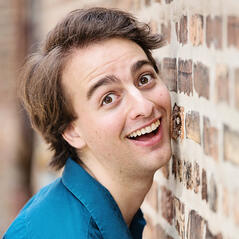 Alex began performing while pursuing a degree in chemical engineering at Oregon State University. His Intro to Theatre professor told his class to audition for the play she was directing. He went, auditioned, and... didn't get it. But the kid was hooked. Eventually, he did get cast and would act in an OSU play (almost) every term thereafter.
Alex went after every performing opportunity he could. With the help of a student director, he became a radio DJ for KBVR FM, OSU's radio station. There he created Small Time with Alex Small and Friends, a hour-long (if he was lucky) program he hosted featuring radio plays written and acted with his theater pals. Even when he was back home in Denver, CO, he would perform at stand-up open mics and take improv and voice acting classes.
After graduating, Alex moved to Chicago, IL to take his performing pursuits further. He started doing community theater productions and taking classes at Second City. Failing to be admitted into SC's Conservatory Program for the second time left him a little lost. That is when he converted his radio show into The Small Time Podcast, written and acted entirely by himself. He also began working with the physical theater troupe Theater Unspeakable. With them, he performed for young audiences across the country, most notably at the Kennedy Center in D.C. and the Lincoln Center in New York.
Upon deciding voice acting would be his focus, Alex moved to Los Angeles, CA where he currently resides. He hopes to make his living doing what he loves and bring joy to a large audience.
Demos
Animation Voiceover
Commerical Voiceover
Podcast
The Small Time Podcast is a scripted comedy podcast written and produced by Alex where in each episode he plays over 20+ characters.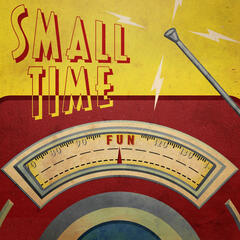 Resume
Height: 6'0''
Singing Range: A2-G2

THEATER:
Theater Unspeakable (Chicago, IL)
The American Revolution / John Adams, Various Characters
Moon Shot / Neil Armstrong, Various Characters

Oregon State University Theatre (Corvallis, OR)
The Upward-Beating Heart / Desiderio
Boom / Jules
The Diary of Anne Frank / Mr. Van Daan
Mother Courage and Her Children / Swiss Cheese
Julius Caesar / Octavius, Lepidus
The Lifeboat is Sinking / Sherwin
Dolly West's Kitchen / Alec
James and the Giant Peach / Earthworm

Wheaton Drama (Wheaton, IL)
Sense and Sensibility / Edward Ferrars

Independent Players (Elgin, IL)
Our Town / George Gibbs

PODCAST:
The Small Time Podcast / Host, Various Voices

RADIO:
Small Time Radio Show / Host, Various Voices / KBVR FM (Oregon State)

TELEVISION:
The Challenger / Host / KBVR TV (Oregon State)

TRAINING:
Annimersion Voice Acting Workshop / Catherine Cavadini / Los Angeles, CA
Character Voices / Denver Center for the Performing Arts / Denver, CO
Commercial Voice Over / Denver Center for the Performing Arts / Denver, CO
Diagnostics (Improv) / The Second City / Chicago, IL
Improv for Actors 1, 2 / The Second City / Chicago, IL
Improv Level 1-3 / Bovine Metropolis / Denver, CO
Fundamentals of Acting 1, 2 / Oregon State University / Corvallis, OR
Advanced Acting: Styles / Oregon State University / Corvallis, OR

SPECIAL SKILLS:
Saxophone, clarinet, flute, piano, stand-up, good ear for dialects, female voices, math, physics, chemistry
Contact
Alex prefers to be contacted via email but can also be reached through social media (buttons below).

Email: [email protected]